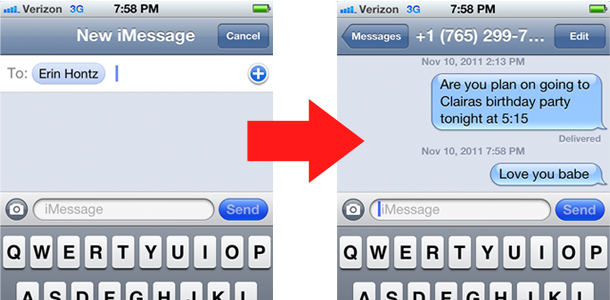 I updated my iPhone 4S earlier today (using the OTA method), and I discovered a nasty bug. My iPhone could no longer remember the names of any of my contacts! I opened up the contacts app on my phone and discovered that all of entries were still there but if I got a text or a call my iPhone would have a sudden bout of amnesia and forget the contacts name.
It's even more bizarre when you're trying to create a new text. In the example above I texted Erin Hontz. After I selected her as the contact, I wrote my message and hit send. In the message pane (pictured on the right) it would forget my contact's name and just show the number.
I mentioned this on Twitter and many of my followers had similar experiences.
How to trigger the bug:
• Use the Delta Update (The OTA version)
• Be on an iPhone 4S (I haven't had reports with the 4)
• Be On Verizon
Disabling (and re-enabling) iCloud contacts did not solve the issue.
Have you had any issues upgrading to iOS 5.0.1?
Update: Here is a partial fix
This method fixed my incoming calls but not incoming text messages. Your milage may vary.
via TSF reader James Foster
1) Open the Phone and dial *228. This is a Verizon over-the-air programming number.
2) When the system answer press 1 for "Program or activate your phone"
3) Wait for the call to disconnect. You should get a prompt stating something like, "Settings updated."
4) Open the Task Manager (double click the home button) and kill the Phone, Message, and Contacts Applications
5) Wait a few minutes (I waited 3 just to be extra safe)
6) Open the Message App to verify the fix.
If you are still broken, kill the Message App again, then reboot your phone.