Welcome to The Startup Foundry.
Published: May 11, 2011 3:14 pm
Lindsey Harper is a solo founder who doesn't code. In all essence she is the antithesis of Valley culture. Yet this hasn't stopped her from building a startup, Swayable, that's gaining teen users hand over fist. I had the chance to catch up with Lindsey via email to talk about the challenges that she's faced and how she overcame them.
What is Swayable?
Swayable helps you get opinions online quickly. For example:



As a solo founder, what's been the biggest challenge you've had to overcome?
In a nutshell, you don't know what you don't know. You have to be more of a generalist as a sole founder vs. being able to really deep dive into any one expertise. So there is always a bit of unknown with regard to making sure you've covered everything. The best way to work around this is to meet with experts and mentors in areas you don't know a lot about and ask them to grill you with questions about what your doing in that area of expertise. For me that meant meeting with several engineers, asking about development, database structure, hosting, security, coding etc. and finding out how to ask the right questions when finding an outsource firm. Whenever I get stuck now, I continue to reach out to my mentors and experts to ask for quick feedback or to ask the simple question, "What am I missing here?"
Tell us about your experience outsourcing development.
In the past I've had great luck outsourcing to sites like: Elance, Odesk, RentaCoder (now vWorker.com) etc., for coding projects. All of those projects, however, were very simple, non-complex type of development projects and outsourcing to these resources worked great. When it came to Swayable, I'd built a massive spec document, did a viability survey on Amazon's Mechanical Turk and got to my minimum viable product spec so I was ready to go. I initially used Odesk and interviewed 5 firms as I wanted a company vs. an individual so I had a larger support team for the project as it grows. I found a firm that seemed to be able to complete the project but after a month past the first deadline, milestone 1 wasn't met. I paid them for the work they did complete and ended the relationship. I then decided I needed a U.S. Based firm with U.S. Based accountability and then development could be done oversees. I hired Beyondsoft Consulting and they have been phenomenal! They've built both my iPhone and Web app as well as provided not only support, but they do a great job of questioning the direction at times and offering up better ways to execute if there are more efficient ways than what I've suggested. I couldn't be happier with an outsource firm and will continue working with them for the foreseeable future. Lesson learned from this is really just jump in, try things out and don't be afraid to move on to a better fit, after all it's your product and money.
If you could do it all over again, what would you have done differently?
I was a bit nervous up front to alienate any audience as Swayable can be used in such a variety of ways. So I built the site with more gender neutral in mind, had I done some more surveys about customer segments, I would have learned that women and teens are more of my audience and could have built the website a bit more targeted to them. Without knowing the direction your site will take up front, and who will adopt your product the most (not all products have this problem if it's a clear niche) it's tough to figure out the right design and UX components. So looking back, I would have likely done some different branding elements and more gender targeting with design. It's something I can fix in the future, but am wanting to continue to see how Swayable is adopted before making any drastic changes.
How do you plan to monetize?
With Swayable's website only 3 months old and the iPhone app a couple of weeks old, some of the monetization options depend on which direction the site goes with the user base. I do have 4 monetization options regardless of direction that I'm working on implementing at certain traffic milestones:
1 – Paid API: Currently when 3rd party sites embed a Swayable I am seeing on average 10%+ click through/engagement with the Swayables. So an API is a natural solution for websites and online businesses & retailers that want to increase user engagement through there site and products and allowing users to create & share Swayable's directly from there product/service pages without going to Swayable.com
2 – Selling Swayable advertisement spots – Soon, advertisers can purchase Swayables to get a more integrated/interactive advertising campaigns where users actually interact with the brand by "Swaying" on a Swayable.
3 – Viglink.com – Affiliate program, already installed on the site.
4 – Banner Advertising – Traditional banner advertising on the site.
How have you gained traction
If you really target an audience and learn how to connect with them, you should see traction (this does not mean you have to spend money to do this). In my opinion, If you don't start seeing the traction you want, then you should be questioning either your product or pivot your product to see where you get traction. With Swayable, I have 3 primary audiences I am targeting initially and one of those audiences is teens (13 to early Twenties is how I categorize this). I've targeted them via content that they consume regularly online i.e. Celebrities fan sites via Facebook fan pages, blogs and twitter content that target these celebrities. I create content the teens want to consume and use Swayable as the medium in which they consume the celebrity content. As the teens visit Swayable to vote on celebrity content, they get engaged by first creating yet another celebrity style Swayable. Once the start seeing others vote on their Swayable and the addictiveness of seeing feedback real time, they start to create content in other categories and topics, which is exactly what I was hoping for. So far in 3 months I am doubling in visitors each month, tripling in page views, and increasing time on site each month. Best of all, users that don't care about celebrity content can just filter by topic to not have to see any celebrity Swayables. My users are engaged, creating content, and over 50% of my visitors are returning back to the site to create and consume more. I am also seeing quite a bit of traction with website owners who are embedding Swayable's right on their site, they are seeing on average 10% click through on the Swayable's, getting more user engagement and interactivity without sending visitors away. Once a website owner has embedded a Swayable and seen the engagement, they are coming back to create and embed more Swayable's on there site.
For more startup news, follow us on Twitter @startupfoundry or on Facebook.
Get Connected:
If you like startups, join our weekly mailing list. Good startup content, no fluff.
👇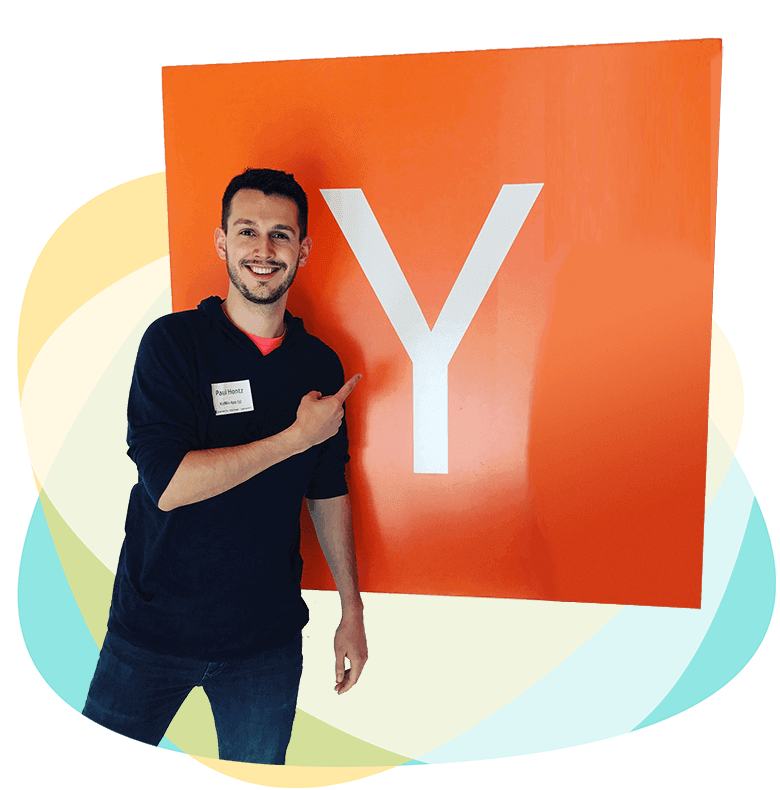 Hi, I'm Paul Hontz.
I'm a YC alumn and I love startups. I created TSF to highlight companies I find interesting. You can learn more about me here.
Recent Posts:
Our Sponsors: