Welcome to The Startup Foundry.
Published: May 27, 2011 3:31 pm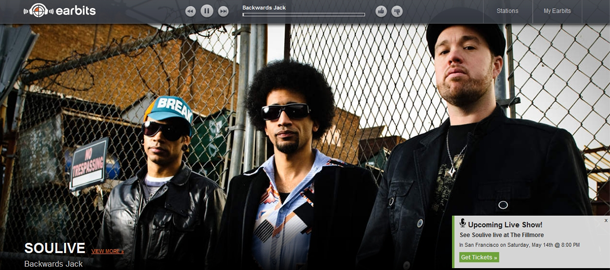 Earbits is a Y Combinator backed company that's looking to replace Pandora for your music streaming needs. Unlike Pandora, users are completely free to skip songs, change channels, listen for hours on end, and even share tracks with their friends. Earbits has none of the same restrictions that Pandora has, and then on top of that there are no commercials. Earbits hasn't signed the major labels yet, but they're gaining traction. Earbits makes its money by letting labels, bands and concert promoter buy airtime, and display their own relevant ads during the broadcast.   If you're listening to a band on Earbits, you'll only be shown relevant ads by someone with a vested interest in that artist getting more exposure. For example, you might be shown an ad for an upcoming show that the band is playing. Essentially, Earbits is to music, as Google Adwords is to advertising.
I had the privilege of interviewing a co-founder of Earbits, Joey Flores. In this interview we talked about how Earbits identified a problem, their big turning point, and how his band made it into Y Combinator. You don't want to miss their story.
Tell TSF how you got started.
My co-founder Yotam and I met in 2005 when he moved to L.A. from Boston and posted an ad for drum lessons.  At the time, I was Director of Marketing for Experian after they had acquired an affiliate network I worked at.  A few months after I started taking drum lessons from Yotam I told him that I had been performing slam poetry a lot and wanted to start a band where I would rap over jazz and funk.
We ended up putting a band together and deciding to record an album. Yotam said that he would produce the album, which he had done before, but that I had to market it. I was managing about $60M a year in performance marketing at Experian, so marketing an album sounded pretty easy.
When did you realize there was a problem?
Our album got great reviews and we could fill up smaller clubs here in L.A. We got invited to open for Grammy winners Arrested Development and it seemed like we had a product people liked. However, after about $20,000 in various marketing and touring expenses, we realized that for all the buzz about how easy it is to be a musician in the age of the internet, all of the services out there either help you sell products to fans you don't really have, or claim to help you get fans but they really just rely on you to spam Twitter or otherwise try to achieve some viral effect.
Where did the idea come from?
One day, Yotam and I were in the car on the way to San Diego and I was complaining about how miserable I was marketing products I don't care about – mortgage leads, etc. And Yotam says, "How do we do what you do, but for music?"
We kicked around some terrible ideas until finally he says, "The problem with marketing music online is that nobody can tell what you sound like from an ad. Give them 10 seconds of listening to you and they'll know if they like you or not."
Within about 10 minutes, we were rabid talking about turning radio into a performance "ad network", with affiliate stations on hundreds of music sites, and good artists could just buy airtime like you would with Google Adwords.
It becomes painfully obvious that there is a problem when you explain to people that, in the age of the internet, bands still hand out fliers.  Fliers cost about $0.15 a piece.  Meanwhile, all you're hoping for as a band is that someone actually takes that flier home and goes online to listen to you.
What was the big turning point for Earbits?
If you consider that Pandora tries to make $0.05 per hour in ads and commercials, and there are 15 songs played every hour, then we can introduce a band to a new listener for $0.01 and make 3 times what Pandora does, while providing massive value to artists.
Once we started telling that story, we got advisors on board from Google, EMI Music, and Yahoo! Music. We raised a bit of money from friends and family, started getting traction with bands and labels, and closed a partnership to power a country music channel for Nashville.com.
What was the Y Combinator interview like?
With these partnerships under our belt, I talked to a lot of the Y Combinator alumni to see whether YC was a good fit for us. They all assured us it was. I believe the quote was, "If you think you might need Y Combinator, you need it. If you're not sure, you need it. If you're positive you don't need it, you probably still need it, but maybe not."
We decided to apply and we got an interview. We walked in to the interview room, and I think it was Jessica immediately asked how long I had been growing my hair.  There were 7 of them on the other side of the table, and Ben, Yotam and myself on the other.  We all shook hands and started the interview.
A good YC interview is just a brainstorming session with about 6 questions thrown at you every minute in an excited flurry, where you're trying really hard to answer them well but being cut off about 5 words into every sentence. If that's happening and the tone is friendly, it means everyone is excited to be talking about your idea.
That being said, you have to wrangle in the conversation, especially if you want to demo your product. So someone would ask me a question and I would say, "Let me show you." and they would keep going, and finally I just turned the computer toward them and said, "Let me show you."
When we showed them Nashville.com's country station, that pretty much sealed the deal.  They understood how we would solve the marketplace problem, and it made the whole thing very clear to anyone how excited country musicians would be to have their music on something like that.
We left and went to hang out at Yotam's brother's place in Redwood City. Ironically, I wasn't at all nervous headed into the interview, but the next few hours were unnerving. Finally, Harj called us, said they wanted to fund us, we feebly tried to negotiate with them, and then took the deal.
What's the biggest challenge you have going forward?
We're solving a marketplace problem. We need content so that we can get listeners, and listeners so that artists want to work with us. I'm very happy with our progress in that regard. We have some big distribution deals coming up, and more and more labels are actually reaching out to us. So, I think we have plenty of struggles looking forward. Acquiring more mainstream music is just one of them.
For more startup news, follow us on Twitter @startupfoundry or on Facebook.
Get Connected:
If you like startups, join our weekly mailing list. Good startup content, no fluff.
👇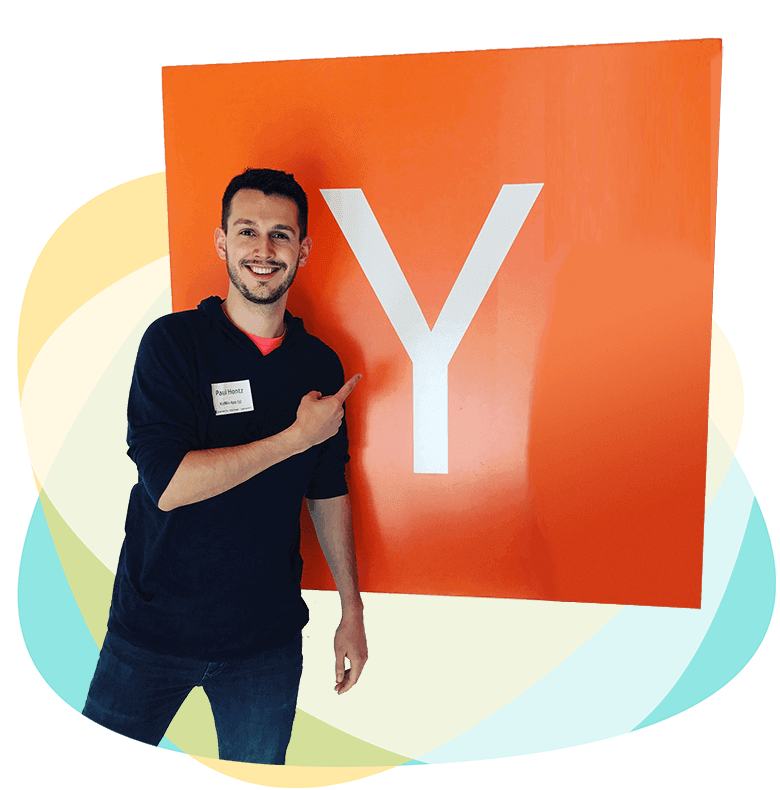 Hi, I'm Paul Hontz.
I'm a YC alumn and I love startups. I created TSF to highlight companies I find interesting. You can learn more about me here.
Recent Posts:
Our Sponsors: